The new alternate jersey for the 2012 season that has yet to be unveiled by the Atlanta Braves seems to have been leaked by an online retailer.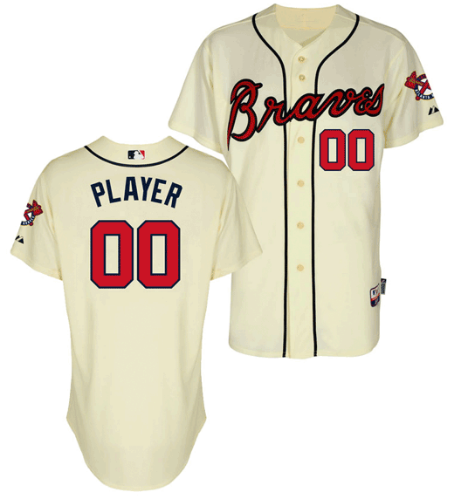 The throwback style jersey was originally posted on onthefield.com, which is offering the technically not unveiled jersey customized for $219.95.
The jersey seems to be part of an actual alternate uniform as opposed to just a jersey and is cream/off-white in color, similar to the San Francisco Giants' home uniforms or the Philadelphia Phillies' alternate threads.
As opposed to the usual navy-red-navy trim around the neck, front and sleeves, this jersey has black piping as well as a black outline around the "Braves" script that seems to harken back to the Braves' days in Milwaukee and Boston. Also absent is the iconic Braves tomahawk, instead featuring player numbers on the front, further suggesting a link to the 1963-65 Milwaukee teams and 1966-67 Atlanta teams.
The jersey also features a new sleeve patch that shows two crossed tomahawks inside a blue circle with the text "Atlanta Braves 1876."
The Braves were already planning introducing the jerseys this month. It will not replace the current Sunday red home alternate jerseys and will instead be used alongside all the other jerseys.
Although Braves 101 longs for the simple days of baseball being white and grey, a thumbs up must be given for the attempt at actually making an alternate uniform as opposed to the plethora of softball-esque colored jerseys.
Tags:
Atlanta
,
Atlanta Braves
,
MLB